Community Activities
Our community commitments and activities range from ongoing projects such as the corporate Meet a Need Programme to activities organised at a local level, in support of charitable causes and community needs within Myanmar.
Community Activities
Our community commitments and activities range from ongoing projects such as the corporate Meet a Need Programme to activities organised at a local level, in support of charitable causes and community needs within Myanmar.  
Partnering with charitable organisations helps us to effectively support communities and individuals. The activities we become involved in work towards improving day-to-day life: providing more opportunities for education, supporting economic development and environmental causes.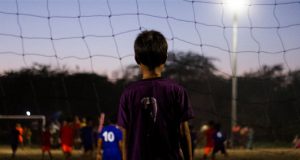 On October 23, 2015, JJ-Pun together with our partners Philips Lighting and First Myanmar Investment, officially opened the first Community Light Center in Myanmar. The solar system was set up in Ngar Zinyine, a village in Upper Myanmar that is currently without access to the national electricity grid.
What is a Community Light Centre?
Initiated by Philips Lighting in Africa, 'Community Light Centres' are areas between 1,000 and 7,000 sqm that offer world-class LED outdoor lighting, powered by sustainable solar power units. These solar light centres effectively extend the day for communities in off-grid locations without electricity. By enabling people to actively use the time after sunset, Community Light Centres aim to improve living standards, performance and productivity, as well as to bring local communities closer together.
How it Works
Using the latest technology in lighting equipment, a Community Light Centre consists of four poles, each carrying an energy-conscious LED floodlight, a durable solar panel, a battery sub-system, as well as reliable charge controllers and cabling. The batteries are charged by solar energy during the day. This allows for continuous lighting during nighttime, with a lifetime of 50,000 hours. The tool-less opening of the equipment guarantees easy and hassle-free maintenance whenever necessary.
About the Ngar Zinyine Village Initiative
Ngar Zin Yine village in Tada-U Township is one of many rural communities in Upper Myanmar that is not connected to the national electricity grid. With the local school and soccer ground being one of the village's main social centres, JJ-Pun decided to work towards providing the necessary means to develop a successful Community Light Centre. We provided four solar-powered LED floodlights, new goal posts, a new soccer field layout as well as a playground for younger children. The project drew from the experience of Philips Lighting in Africa and is aimed at supporting the local community with the right infrastructure to help them develop better living standards.
Development Through Community Light Centres
Studies by Philips Lighting in Africa have shown that Community Light Centers can have a profound impact on the development of rural communities. Past projects supported local communities by increasing security levels in the illuminated area and provided a public space for shared social activities (such as sports, study sessions or community meetings). Additionally, the Community Light Centres helped boost local entrepreneurship by allowing small mobile vendors to advertise their goods even after nightfall.
Further Development Opportunities
Currently, one in every five villages in Upper Myanmar remains without access to the national electricity grid and therefore do not have lighting after nightfall. The community Light Center in Ngar Zinyine marks the first solar project of this nature in Myanmar. There are many further opportunities to help the development of rural communities through the use of sustainable energy technology. JJ-Pun, together with our partners First Myanmar Investment and Philips Lighting, will continue efforts in rural development. It is our hope that by taking this first step, we will spark many other such initiatives throughout the country.

On February 2nd 2016 JJ-Pun unveiled a new Corporate Social Responsibility initiative, planning to bring solar lighting to 100 rural off-grid villages in 2016, in order to help local communities. The initiative builds on Myanmar's successful first Community Light Centre in Ngar Zinyine village (Tada-U), which has been in operation since last October.
Community Light Centres
"Community Light Centres" (CLC's) are areas of approximately 1,000 square metres, the size of a small soccer pitch, illuminated using a new generation of highly efficient solar powered LEDlighting. Initiated by Philips Lighting in Africa, the initiative has set up over one hundred such centres throughout the African continent in the last year alone.
The new Community Light Centre Initiative
Building on the success story of Philips in Africa, and seeing the great potential after installing Myanmar's very first Community Light Centre in Upper Myanmar, JJ-Pun is now looking forpartners to bring these solar lighting systems to an additional one hundred off-grid communitiesin Myanmar. "Each Community Light Centre will come as a complete package, consisting of exclusively premium and sustainable technology parts, that will ensure the systems are running smoothly formany years to come." said Saw Min Htet, Department Head for Lighting Solutions and Cable Technology at JJ-Pun.
Why it is important
Today, a full 84 percent of households in rural Myanmar have no light after nightfall, which puts serious constraints on the local communities of these areas. Having lighting after darkness can not only help to improve overall safety for villagers, it can also act as motor to lessen social limitations and economic constraints, helping rural communities in their autonomous development efforts. The Community Light Centre Initiative therefore targets to support thousands of these rural households, by lighting up public places in each village center during nighttime, enabling the local communities to effectively use the areas and their surroundings after sunset. "There's a wide range of possible usages, from local soccer tournaments and cultural events, to small market activities, as well as education sessions and organisational meetings. All of these activities can help to bring these communities closer together, as they all share a common space that is available to everyone after dark." noted Julian Stefan, Marketing & Business Development Manager at JJ-Pun.
Support the Initiative
"We fully believe in this project and in the great opportunities Community Light Centres can bring for Myanmar's rural communities. That is why we're very proud to already have a solid group of dedicated partners on board, supporting this initiative." said Philipp Hoffmann, Managing Director of JJ-Pun. With the importation process of all required material well on its way and potential locations for the Community Light Centres secured, the first installations are planned to start mid-year. Until then, the initiative will look for additional supporting members, interested in joining the project, in order to help improve the quality of life for people living off the electricity grid.